Welcome to the Nikki Wikki!

Best Of Luck Nikki is a Disney Channel India sitcom, which premiered 3rd April 2011. The series is an Indian adaptation of the American teen show Good Luck Charlie. The plot is similar to the American one except for some changes being made in some episodes in the series.
It revolves around a family, the Singhs, as they try to adjust to the birth of their fourth child, Nikki Singh.In each episode,Nikki's older sister Dolly Singh creates a video diary containing advice for Nikki about their family and life as a teenager. Dolly tries to show Nikki what she might go through in the video diary so she can always know how to figure things out when she gets older, when she wouldn't be around.In the third season Nikki's younger sibling was born- Bobby.
RULES AND GUIDELINES
Please see the rules and guidelines before editing:
Best Of Luck Nikki Wiki:Rules and Guidelines

Meet the Characters
Featured Article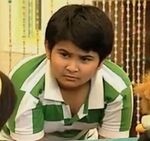 Sunny Singh
is the middle child of the family. Sunny is used to being the baby of the family and dislikes the fact that Nikki now holds that spot. He is portrayed by
Aakash Nair
.
Read more...
Featured Quote
"Where'd you get the monkey?
I bought it from the Internet
I wasn't talking to you..."
— Sunny Singh & Rohan Singh
Helping Out
Not sure where to start?

The Community Portal is a great place to learn about the wiki. It contains information for newcomers and regular members alike:
Information on the show, actors, theme song, broadcast channels, and episodes.
Info on getting started and editing the wiki, with video demos.
How to customize your User page.
See what's missing on pages.
How to maintain pages and make sure they have a consistent look.
Reference materials on templates, categories and more.
blogs and newsletter articles.
Talking with other members of the wiki in Forums.